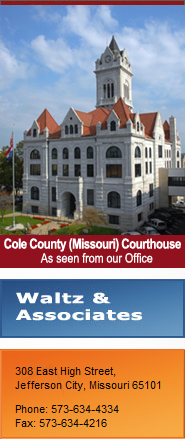 01
Welcome to
Waltz & Associates
When you're facing legal issues, you want an experienced and effective attorney who is knowledgeable about the law and best procedures to favorably resolve your case. With over 50 years of combined experience, the Waltz & Associates law firm offers skilled attorneys with extensive trial and appellate experience and a winning record at both the state and federal levels.
Our legal team practices primarily in the areas
of criminal and traffic defense; personal injury cases; family law (i.e. divorces, paternity cases, child custody matters, etc.), however, we also competently handle a wide variety of other legal matters including in the areas of business law; real estate transactions; adoptions; juvenile law and governmental administrative law. From personal injury assistance to divorce and paternity, from defense of traffic infractions to serious felonies, we offer ethical and vigorous assertion or defense of your rights and interests. We would appreciate the opportunity to serve you.
For competent, savvy andtrustworthy legal assistanceinJeffersonCity and anywhere in mid-Missouri, the attorneys and staff atWaltz & Associates will work hard to ensure the best possibleoutcome for you. It is our goal to provide superlative legalrepresentation for our clients in those areas of the law where wehave particular expertise. Obtaining fairness and justice for ourclients is an important aspect of any case and something for which we will always fight.
Please call or e-mail to schedule an appointment.